Meeting Your Relatives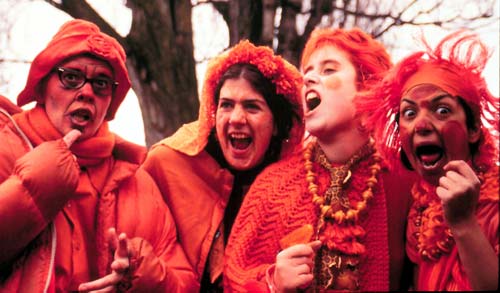 The clown knows what it is to be the underdog, to be out of a job,
done down by authority; but more than that, he knows he is not alone.
In his magical and eccentric way, he triumphs through this self knowledge.
He transcends the buffeting, always get up to live another day
and shares his joy with us. - Beryl Hugill, Bring on The Clowns

I've got the sixth sense, but I don't have the other five. - Red Skelton

When did you realize that you were a fool?

Fools of a feather flock up together,
naturally gravitating
to their own kind of yuck and yak.

We know each other,
we band together for protection
and for kicks!

All we want
is to play all day.

Can the rest of you
come out to play?


The difference between a clown and a fool?

Clowns - entertainers by trade -
can finish the act, take off the shoes and makeup.

Fools are born and natural. Folly
is so integral to the human condition
that no one is immune from its graces.

We do it because we have to.

Our motto: THE MORE THE MERRIER!

The Fool's Society revels in individuality.
Eccentrics are given wide berth.
We're a moral haven to outsiders, goofs, holy innocents...

the ones foolishness creeped up on,
until it completely took over our lives.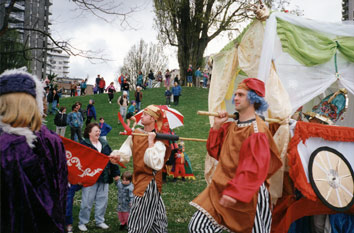 He was born with the gift of laughter and a sense that the world was mad.- Rafael Sabatini

INTERMISSION:

• PLEASE CLICK HERE
TO SING THE FOOL'S NATIONAL ANTHEM •


Becoming A Fool:

Membership entitles you - by law - the right to perform
AT LEAST ONE FOOLISH ACT EVERY DAY.

Since you've read this far, that should be easy.

Will your act stimulate the birth of a smile,
the bubble of a giggle, the smurf of a smirk?

If it works - repeat at regular intervals.

Your goal: compleat and utter abandonment
to a permanent state of grace.

Foolery, Sir, does walk about the orb like the sun; it shines everywhere.
- Shakespeare, Twelfth Night


Now that you're practicing, you may find
it takes very little effort
to completely alter reality.

A well-placed crossing of the eyes,
a wink, the blowing of a kiss
the flip of a finger
or the twist
of a phrase

could be the veritable
banana peel that changes history.


Koestler notes (in 'The Act of Creation') that comedy occurs
at the intersection between two planes of thought


As soon as you have made a thought, laugh at it.
- Lao Tse


NOW, CLICK BELOW FOR A FREE EXCLUSIVE:
The Million Dollar Secret