PARADE HIGH-LIFE
Highlights from Our 27 YEAR HISTORY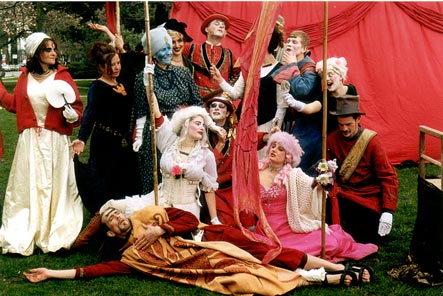 Founded in 1980, the Fool's Society produced three annual Festival of Fools.
Modeled after European traditions, the festival was a first in North America,
bringing stage and street artists from across the country.

The PARADE began as part of the festival, traversing Granville Island Seawall
for 10 years until migrating to the lovely English Bay route in 1990, then
in 2006 to Robson Square, the heart of the urban commons.

For the 21st Century, Fool's Day now focuses on the annual Coronation
of a FOOL OF THE YEAR (see the 2006 PRESS RELEASE). Crowning a Fool
took place at our very first event, with Alderman May Brown in a giant rocking chair.

Over the years, the Fools have shouldered many fantastic exploits.
More photos and details coming soon of those who have passed through
these hallowed halls...from Stringbean & Gretchen Haywire to Orange Julius Caesar,
look for them in 2010 at the 30th Anniversary Reunion!


Take a peek at some of the highlights:

1983 - A Flotilla of Fools sets sail from Deadman's Island

1986 - VANCOUVER'S CENTENNIAL

• Messages sent to the King of Mars via weather balloon
• Elephants carry a huge model of Expo made of 100% jello pudding
• 12 stilt characters appear: The Race of Giants
• The Holy Cow is delivered for Easter Sunday,
(pulled by Three Christs in saran wrap)
• SILLY OLYMPICS inaugurated

1987 - 'EARLY BIRD' PARADE
for YEAR OF THE RABBIT

...local banana stylist Anna Banana was on hand
for the Standing Ceremonies at the Water Park,
where the Giant Balloon Bunny was released...

1990 - POETS AND PIES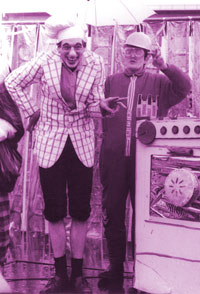 ...a miserable yet well-attended rain parade featured a mad series
of exploits with cream pies, shunted from a cardboard oven by a
frenetic baker - the finale was a distance contest of catapulting
pies to catch in a huge butterfly net, while the audience huddled
in the roped-off "Pie-Free Zone"...

1992 - CORONATION
OF 'FOOL OF THE YEAR'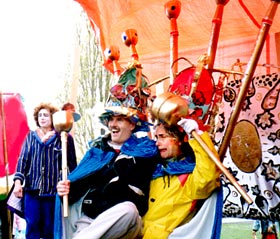 ...Alderman Gordon Price then allowed us:
to place the Fool's Crown upon his head; entrust him with
the Royal Orb and Sceptre; drape the Fool's Cape over his shoulders
(as once worn by James Brown); and finally, once ascended
to his rightful place on the Foolish Throne, to bear him aloft
on the Royal Carriage - supported by six Herculean musclemen -
and carried in state for the length of the Parade...

1992 - CARPOOL OF FOOLS

...attempted to break the World's Record for the greatest number
of Fools to ever fit in one Vehicle...all persuasion of characters
crammed their bodies into the confines of an ancient Volkswagen...

1994 - JURASSIC CASINO:
GET LUCKY WITH THE FOOLS!

Fools Lost Their Shirts On April lst...Our carefully trained
chickens have consulted the lay-lines and settled on English Bay
as an egg-ceptional location for our new destination of pleasure,
the JURASSIC CASINO... at the Parade Finale, the crowds gasped
with awe as the Salvador Dali Llama, in a reckless bid at immortality,
devoured a Golden Omelette prepared from Thirteen Hundred eggs!

1998 - KING BOBUS AND THE FREEBLIES :
THE FOOL'S BACCHAE


...the audience witnessed the strange, Olympian exploits of the Freeblies as,
intoxicatedby the Sacred Oobleck, they enlisted everyone within reach into
the Great Exalted Order of the Freeblies!

... in a finale worthy of DeMille or Coppola, the crowd gasped with ecstasy as
King Bobus narrowly escaped a furious flurry of custard cream pies, and the seaworthy
Ship of Fools beat a graceful exit to the Elysian Fields.

1999 - UTOPIA or OBLIVION?
OR: WAR OF THE GURUS


The two roads to Light or Darkness - which shall we choose?
The UTOPIANS, a race of Beautiful People obsessed with Comfort,
and Fashion, believe the year 2000 will be the dawning
of a perfect New Age.

The APOCALYPSOIDS, enslaved by the Corporation of Orange to
the bicycle-powered Giant Brain, frantically try to prevent
the self-destruction of this THOUGHT-BOMB...

in the absurd finale, the Gurus battle it out for cash, convincing their
followers to DIVE FOR DOLLARS in "The Ultimate Dumpster Dive"...


2000 - FOOLS WAKE THE DEAD :
"A SPRING CURE FOR THE SACRED COW"

In this year's story, a weird band of Alchemists promised to resurrect
the greatest magician of them all, Mr. Walt Jizney! With a potion mixed
from the healing waters of Viagra Falls, these modern-day crackpots
re-animate Mr. Jizney from his cryogenic slumber, then sailed the proverbial
Ship of Fools into the new Millennium! Also vying for immortality
were a bevy of celebrities refusing to be forgotten,
from Pee Wee Herman to Mmm-mmm-mmm Marilyn Monroe!


READ AN EYEWITNESS ACCOUNT HERE:


OR JUST GO HOME